The Tempo Ultra collection raises the bar and takes activewear to the next level. Designed to maximize performance, the collection is made with innovative technical features and new textile technologies to guarantee comfortable, stylish pieces, perfect to tackle any type of training.
Mesh panels and Coolmax technology combine to regulate body temperature during workouts, while quick-drying fabrics and sweat-wicking work together to move moisture away from the skin for a distraction-free workout. With Tempo ultra being seamlessly designed, the fabric are made to stretch and flex with the body, allowing total freedom of movement.
Tempo Ultra also takes advantage of ground-breaking Polygiene StayFresh™ technology to ensure performance benefits extend far beyond the gym. Polygiene's built-in fresher-for-longer technology inhibits the growth of odour-causing bacteria in textiles, that are responsible for this typical unpleasant "sweat smell" in garments, so you feel comfortably fresh while training. Less smell also means you don't have to wash your training gear as often.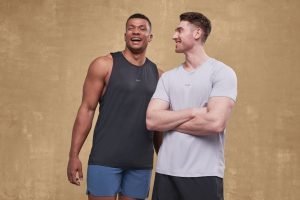 Performance means more than just gym gains.
At MP Activewear we want our products to go beyond the gym! We want to improve your workout experience with high-quality activewear for zero-distraction sessions, but we also want to give you these pieces with the world around us in mind. Polygiene StayFresh™ technology complements this philosophy by making our product more premium whilst at the same time making our products more sustainable and environmentally friendly.
By keeping your training gear odour-free and minimizing bacterial growth, Polygiene StayFresh™ allows you to wash your clothes less frequently. This significantly impacts both the amount of water and energy you consume and the expected lifespan of your clothing. According to the LCA that Polygiene recently published you can reduce the environmental impact of garments by a third by skipping every other wash, saving 51 kWh and 3,800 litres of water a year.
While this is great for the environment, it benefits customers directly, too. Longer-lasting gym apparel reduces the amount you have to spend and saves you money. At the same time, the ability of Polygiene StayFresh™ to eliminate odours and keep you feeling fresh provides you with the comfort and confidence required to work hard, push further, and achieve your fitness goals.