Being more sustainable is something we all need to consider; however some people don't realise that their fitness lifestyle can sometimes be far from eco-friendly. Here are some top tips to help you become a little more sustainable when it comes to living an active lifestyle.
---
1. Don't drive to the gym
This may seem like a straight up no for some people but hear us out. Running or cycling to your gym has multiple benefits not only for the environment, but for yourself. Cardio is often seen as a 'dreaded' part of the gym, and people will do anything to skip it. Running or cycling to the gym kills two birds with one stone, you get your cardio out the way and it means you don't have to use a car or other mode of transport which isn't good for the environment. It may seem like a small change, but if more people started incorporating this into their regime, it'd make a big difference.
2. Buy sustainable activewear
An often-overlooked aspect when it comes to sustainability, but clothing is super important. Buying clothes with sustainable features is a simple yet truly effective way to make sure your fitness lifestyle is greener. Here at MP we have a range of products each with sustainable features in the design. Check them out here.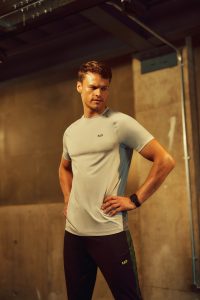 3. Recycle old activewear
Once you have your clothing, if it gets outdated or you find it stuck in your wardrobe and never seem to wear it, make sure you show care when having a clear out. If it's still in good condition, why not take it to a charity shop, or give it to a mate. Both are great ways of making sure clothing isn't wasted. If the clothing isn't suitable to be worn, you could consider taking it to a local store or facility which will take in fabrics to recycle, and potentially be made into something else!
4. Diet
Diet is a huge part of fitness; diet is also a huge part of sustainability. With sustainable diets becoming more important and more popular than ever, diets such as vegetarian or vegan are growing in popularity. The diets are the perfect balance between being healthy and sustainable. You are able to get all the sufficient nutrients through these diets so it's super easy. We're not saying become a vegan, but maybe once a day try it, you never know! Check out some of our recipes here.