Introducing the Velocity Collection 3.0
The successor of our accomplished 2.0 range, the Velocity collection is back and better than ever. Taking running gear to the next level we have expertly engineered specialist products that prioritise your running performance. With Velocity we have developed a range which no matter the weather, hot or cold, wet or dry, light or dark, allows you to go the full distance. Running has never felt so good, no excuses.
Velocity 3.0 surpasses any other running range we have released; we are suddenly striving towards unrivalled quality for the price offered. Our most technically advanced collection yet, we have developed features which offer the highest of quality and truly aid performance in a way like never before.
We have made sure this collection entails some of our most refreshing and innovative mechanics and designs yet. With all the Velocity products designed with multiple technical features, specifically designed to aid your running performance, it shows how advanced this range is. Whether it's reflective detailing for superior safety (Such as the Men's 1/4 Zip Top), water repellent material (Such as the Women's Running Jacket), or sweat wicking fabrics (Such as the Men's Short Sleeve T-shirt) to name a few, Velocity has really upped its game.
In order to gain a greater insight into the Velocity collection, we have spoken to designers Emma and Jessica. With Emma and Jess being experts, seeing Velocity blossom from an idea into a physical product, their deeper knowledge and understanding of the collection will hopefully prove it is worth. Here are a few answers to questions we asked them.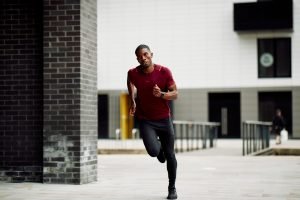 Question:

How does Velocity 3.0 differ from the previous range?

Answer:

Emma: Within this velocity range we wanted to look at Running as an activity as a whole – There are so many different styles of running we wanted to ensure there was something functional whether you're doing a 5k on a treadmill indoors or a marathon outside.

Jessica: We decided to maintain the design language of Velocity that we have established over previous ranges, keeping it slick and technical, but elevated the AW21 range to include engineered mesh fabrics and more reflective print to aid visibility.

Question:

How will velocity aid running performance?

Answer:

Emma: Within this collection I wanted to really focus on the fabrics. The Leggings and Bra are in a high-quality Micro Nylon with high Interlock – it's got great stretch and recovery is completely opaque and is UPF protective up to UPF 50+. this also helps towards temperature regulation.
We have also introduced seamless styles within this range. This means seams are minimal within these styles so avoiding irritation whilst on your run to ensure ultimate comfort throughout. Each style also has a reflective element to keep you visible on a late night or early morning run – we've also ensured enough storage solutions throughout the collection too!

Jessica: We have engineered mesh and perforated fabrics to aid ventilation, keeping you cool on your runs. The reflective prints aid visibility and the stretch fabrics optimise movement and mobility.

Question:

What is your favourite piece from the range?

Answer:

Emma: It's so hard to choose a favourite but I will have to say the leggings – I Just love the fabric it really performs when I go out for a run! The waistband is also super supportive, and it has an inner drawcord to adjust! there is also a pocket to the back with a water-resistant lining to protect my valuables, reflective prints, and strategically placed mesh in high heat areas!

Jessica: I love the packable jacket – the fact you can pack it away in itself makes it the perfect layering piece for long runs that might see you through any unpredictable weather.

Question:

Have the products been tried and tested?

Answer:

Emma: I've tried and tested the products myself! A key point for me was no distractions whilst on my run and was really pleased with how the collection performed! We also have sent out the collection to athletes to test the feedback was great with some highlights being the reflectivity was functional throughout and the jacket is perfect to be packed away and has a handle, so it is easy to store and carry!

Jessica: We sent our products to athletes to be put to the test on their runs and in training and received great feedback. For example, the Velocity Joggers were said to be super versatile when used from runs to training circuits. Our feedback tells us our entry level Velocity products are great all-rounders for running & training too, with great fabrics that are sweat wicking and offer good ventilation.

Question:

Main points of focus when designing Velocity?

Answer:

Emma: The main point of focus was no distractions so the wearer can purely focus on their run, Reflectivity so the wearer can be safe and visible when training outside. Storage solutions so there is always somewhere to carry valuables and high-performance fabrics that react to the wearer throughout various styles of training and climates.

Jessica: We wanted to ensure that Velocity continues to meet the needs of the runner. Mobility and ventilation are key, so we answer these with fabrics and design details that allow the athlete to get the most out of their running performance and focus on the run.