Our latest collection of unisex clothing isn't crafted with your average cotton, it's organic cotton.
What does that mean?
Well, organic cotton farmers keep it natural. They prioritise the long-term wellbeing of both people and the planet.
No fossil fuels. No hazardous fertilizers. No toxic substances. Just happy farmers, healthy soils and premium comfort.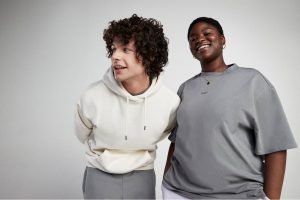 The fabric delivers a superior feel against the skin and even smells better than regular cotton!
By choosing organic cotton, you're supporting a sustainable production process – something MP are continuously working towards.
Our unisex collection comes in 4 stunning colourways – Ecru, Pastel Lilac, Steel Grey and Black. Relax in unisex for rest day or dress it up for a lunch date – it's our most versatile collection yet.