Built to Aid Workout Performance, Adapt Has Arrived With a New Range.
Designed to overcome the demanding, we have scrutinized the most effective ways to develop clothing which specialises in performing in the toughest conditions. After elevating the functional details, our Adapt collection is ready to be released and quickly become a favourite. Adapt pushes an extra set out of you, it enhances your workout performance and elevates your game. Adapt will give you everything it's got, now it's your turn to do the same. 
Sweating? No sweat, we have you covered. 
Picture this, you're in the middle of a workout, you start dripping from places you didn't even know could sweat. Trying to workout whilst simultaneously trying to keep as dry and cool as you can is a nightmare. Adapt has designed products with this problem in mind. Crafted with premium moisture-wicking fabric, Adapt is unrivalled when it comes to clothing capable of enduring the sweatiest, harshest workouts. With our fabrics pulling any unwanted moisture away from the body, you stay fresh and cool for longer, allowing you to smash sets and push yourself without feeling uncomfortable. 
---
Love yourself, love the planet. 
With sustainability in mind, our products have been developed using environmentally friendly fabrics. It is a time where showing a sufficient level of responsibility towards our planet is more important than ever. So, not only with Adapt are you showing love to your own body, by giving it the best gear to work out in and become healthier, but you are showing a much-needed level of accountability towards a global issue. Whilst manufactured with certain fabrics to achieve this, by no means has it meant the quality and purpose of the products has been neglected. Fabrics that are perfect for workout performance, yet eco-friendly mean there isn't really a downside of Adapt.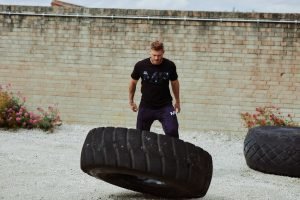 ---
Smash sets in style.  
Why just annihilate your set when you can annihilate them in style. Arriving with a vast range of designs and colours, Adapt bursts on to the scene with bespoke looks and a wide range of options. Whether you are new to the world of fitness and want a more simple, less flashy look or you want to show beams of confidence and stand out compared to everyone else, Adapt has designs for both and everything in-between. Think about it, you wouldn't wear clothes which all looked the same when you go out, so why do that in the gym? Spice it up every now and then. 
---
Technical Excellence.  
Created with flawless functions which see Adapt transform from a standard training range into a collection which inspires. From zoned ventilation, reinforced seams to 4-way stretch fabric, Adapt possesses many exceptional technical features which enhance workout performance. These features are the most important factor of the entire range. There are many clothes that you can train in, but not many which you can really benefit from.  
Push yourself, maximise your potential with Adapt, the latest collection for intense workouts.