In case you haven't noticed, it's started to get a lot colder in the mornings. It's already October, and whilst we mourn the summer, it's time to face the cold hard truth: summer bodies, competition results and healthy habits are all made in winter.
The cold, dark starts make it difficult to get out of bed, but the earlier you start to build that routine, the easier it'll be to keep it up over the next few months. The trick to beating winter laziness lies within your wardrobe, but we're not talking any grotty old long johns. What you need is a base layer. But what is a base layer, and how does it help to regulate your temperature? Garment Technician, Jessica Crampton, is on hand to explain.  
What is a 
base
layer
?
The holy grail of winter warmers, if there are no base layer sets in your winter wardrobe, now is the time to change that. A base layer is an undergarment that sits like a second skin against your body, and acts to keep you warm. They're pretty useful if running is your thing, or an extra layer is necessary for those late evening five-a-side games. 
How should a base layer fit?
A fitted base layer should sit close to the skin so it can wick away sweat properly, but not so tight that it restricts your movement. It has to feel comfortable to begin with before it keeps you dry and comfy as you train.  
How does a base layer keep you warm?
Simply speaking, a base layer provides an insulation barrier against the skin. Not only does this keep you warm, but it also wicks away sweat from your body in order to keep your temperature regulated throughout your training. As it keeps you warm and you produce sweat, you'll lose more water weight and feel less bloated. We'd call that a win-win. 
Are they compressive?
Yes and no. Most base layers act with a slight compressive action, but generally, most don't fit tight enough to technically count as compression wear. However, a well-fitting base layer will squeeze your muscles a little as you work out. This will help to increase your blood flow to your heart and reduce lactic acid build-up, helping you to avoid those next day DOMS.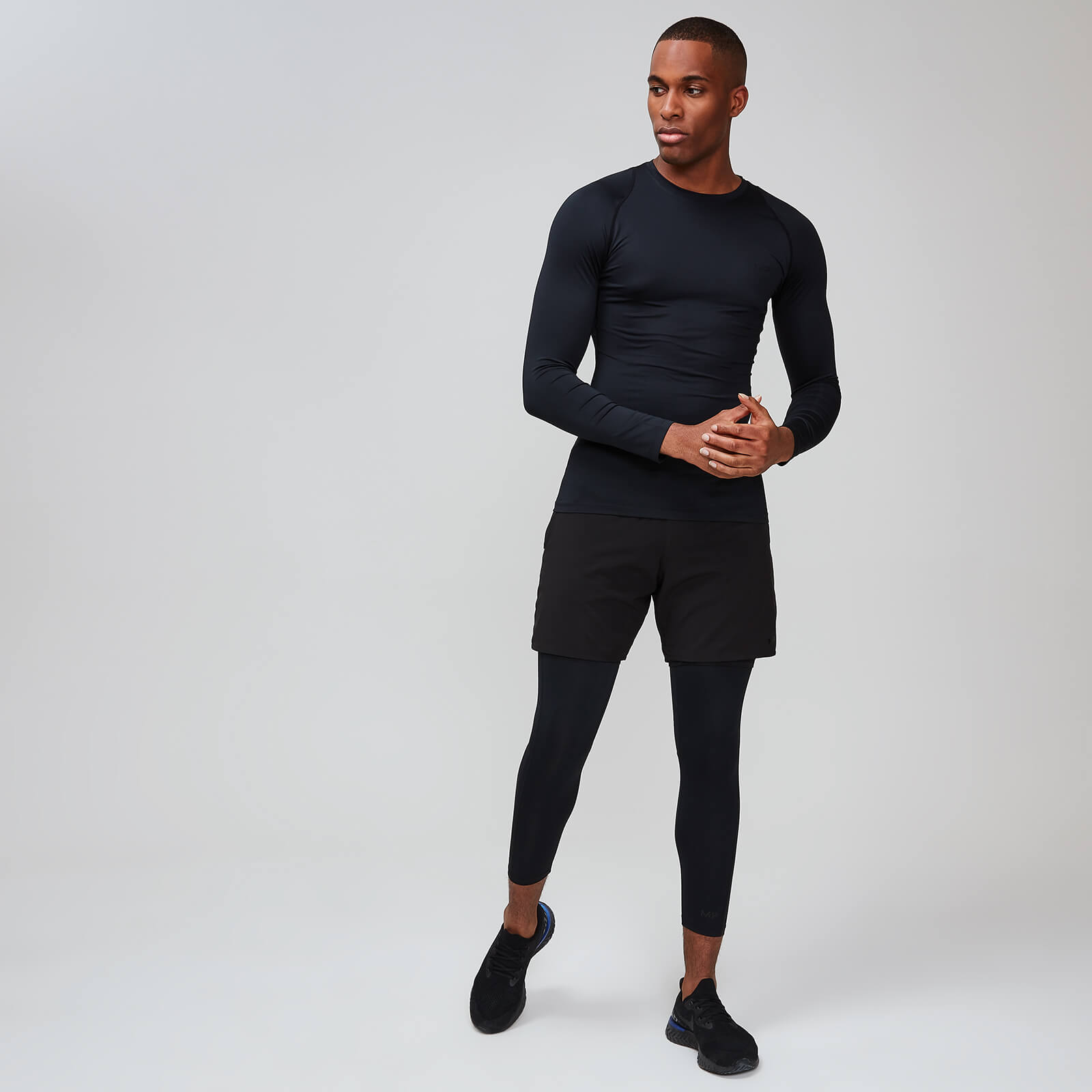 What other benefits does 
wearing
 a 
base layer
 have?
In some instances, the added layer can provide a layer of protection. As they are worn in multiple high-performance sports, they can act as a barrier if you were to fall or slip during training, or crash on a bike ride. Acting as a valuable second layer of skin they can help to limit small cuts or bruises, meaning you can continue for longer with your training on the day or avoid downtime.  
Wearing a base layer can also help to keep your clothes fresh, as the layer's sweat-wicking qualities can help to prevent bad odors and sweat marks.  
The base layers you should add to your workout wardrobe
All of our base layers have been through the wear testing program we have at MP to confirm the fit and function of the product. They're made from soft, functional fabric and the garment doesn't stretch or loosen after multiple washes. Our MP base layers come in a range of styles, so whatever you're planning on working out in there will be something to suit you. Shop some of our favourite styles below.